A Running Rufus and Cyborg mini adventure.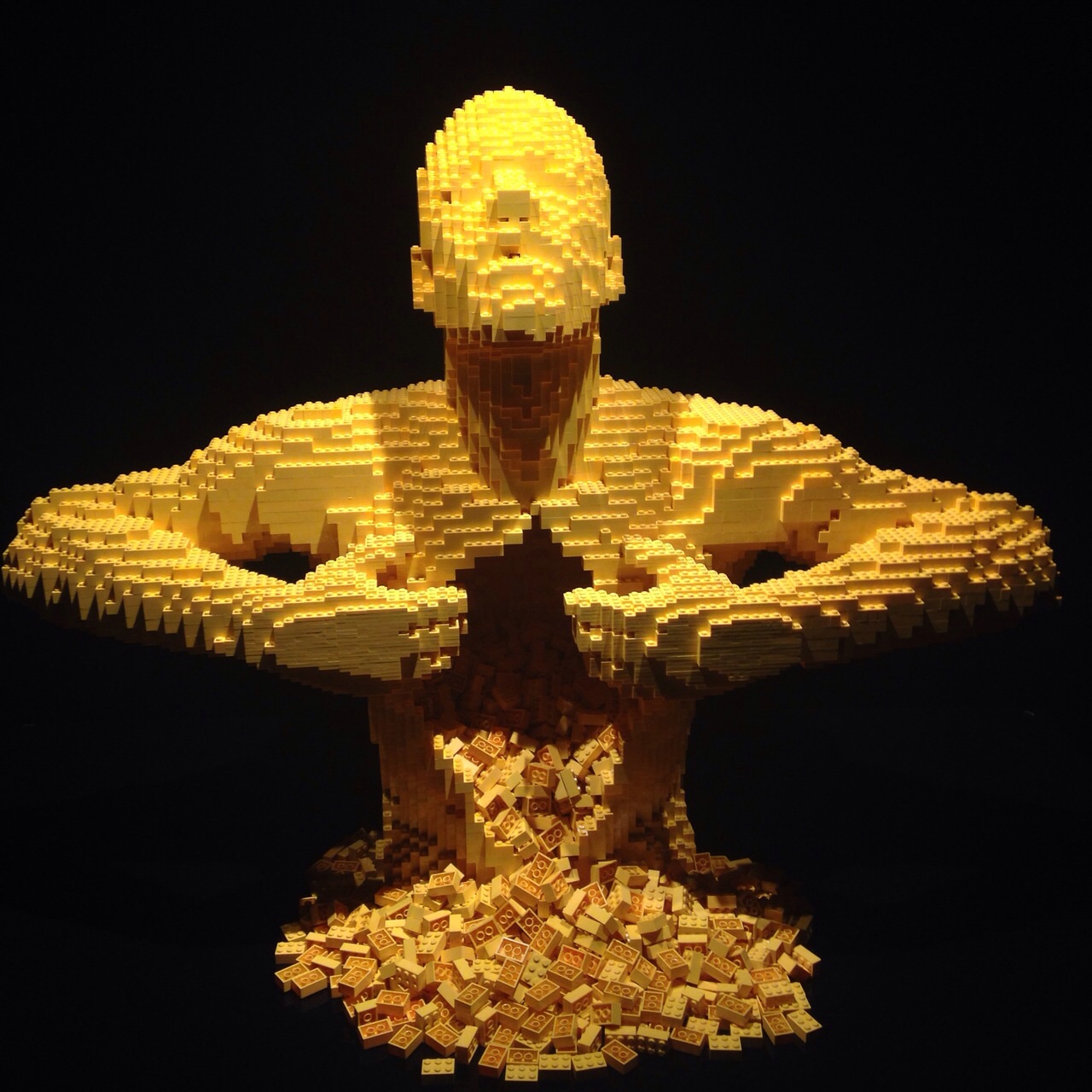 Birthday celebrations have come and gone in our house.  The Cyborg had his big three in January and I had my big three something in February.  My ma 'treated' me to a game of hockey(?!) for the said day which I was obviously um, delighted with.  BUT amongst all of my very lovely gifts, a pretty awesome ticket lurked, a bit like a Willy Wonker Golden ticket.
My little brother (I say little, he is taller than me and 33.  But he'll always be my little brother) had sent me tickets for the Art of Brick.  Beyond.  Excited.  I love London.  I love galleries.  I love exhibitions.  And if I'm honest, I love a cheeky trip to see him, my sister in law and my delicious niece.  So, diary coordination meant that this weekend was the weekend to head down and have a few days in The Smoke.
The Cyborg is pretty much my only but favourite travelling companion these days.  He loves chatting and reading Richard Scarry in the car.  And knowing his love of anything vehicular, I was pretty bloomin' certain that London public transport was going to be the highlight of his trip.  And bingo, I was right.  Double deckers everywhere very almost blew his mind.  And we spent a lot of time being trains through Spitalfields market.  Once upon a time, I worked a little bit in London and if you'd have told me then that I would be 'Woo Woo-ing' around imaginary tracks whilst everyone else was bustling by, I would have laughed.  A lot.
After a significant mooch around, we arrived at The Art of Brick.  I had no idea what to expect BUT I did have an extensive (and most likely pointless) conversation with The Cyborg about things being precious and not to touch.  I know that he's technically deaf and all that, but crikey, talk about falling on deaf ears.
The exhibition was incredible.  Not too big and not busy.  But what Nathan Sawaya can't build from Lego isn't worth talking about.  A HUGE TRex, umberellas, countless people, Damien Hurst-esque skulls, busts, beatles, phone boxes…… incredible.  The patience this guy must have, given that I struggle even building a teeny bit of duplo, is quite mind boggling.
I'd absolutely recommend it as a spectacle and if you're in the Brick Lane vicinity, it's worth poking your head in.  HOWEVER.  I'm not convinced that my three year old Cyborg was the best person to take around with me.  Taking a three year old into a Lego exhibition and then expecting him not to race around and try and touch everything?  Yeah.  Erm.  Fortunately I was in good company and able to go back around solo whilst The Cyborg had an extended play in the area where you can touch the lego at the end with his Uncle Ginge.
I'm also ever so slightly concerned about what happens when Nathan Sawaya gets to the end of one of his sculptures, stands back to admire it and realises that there's a teeny bit that's out of place.  Eek.
http://artofthebrick.co.uk/