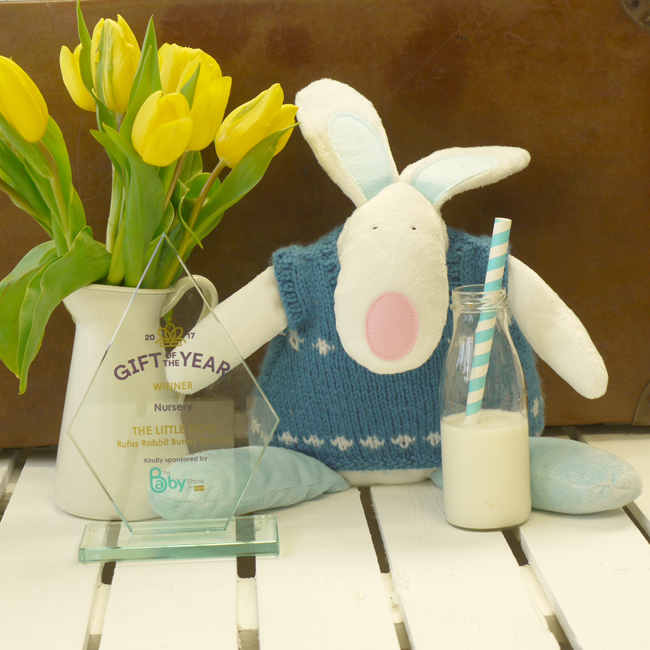 He only "done gone and done it"! That little babbit of ours accepted the retail award for Gift of the Year 2017 ( nursery). Rufus Rabbit beat the one and only legend that is Peter Rabbit to the top spot with his baby bunny bonnets. To say he is chuffed is a rather large understatement, in fact he's become a bit award obsessed – very common in rabbits apparently!
Gift of the Year honours are awarded to the latest most original and innovatively designed products that could be given as gifts. During the intense judging process the judges were looking for, considering and selecting on the following elements:
Design, innovation and originality
The WOW factor
Presentation and packaging
Quality of manufacture
Customer appeal and value
Sales potential and commercial viability
Retail profit potential
Marketing and merchandising material
The Gift of the Year judging panel is selected to ensure a broad cross section of the industry is covered, from the quirky one-off local gift shop through to elegant independent galleries, the UK's most respected department stores and everything in between. The judges have diverse backgrounds and experiences making a good recipe for their task in hand.
During the rigorous, week long process of judging the judges forensically review and evaluate the submitted product constantly measuring against the criteria and standards. The secret judging room is a hive of activity, thought, discussion, hard work and of course fun!
The judges are proud and honoured to be selected for this prestigious task and proud knowing their efforts and decisions have contributed to the success of newly launched products and raised the profile of the companies who entered.
| | |
| --- | --- |
| Sam Hood | Amara |
| Caroline Rowell | Retail Consultant |
| Chris Rushby | Jarrold |
| Tabi Marsh | Heritage |
| Rachel Mewies | Stratford Garden Centre |
| Maggie Thornton | Alligator Pear |
| Hayley Thornton | Wyevale |
| Gemma Conway | Kleeneze |
| Suzie Abel | Jarrold |
| Sara Albright | John Lewis |
| Ronnie Barnard | Gifts for Gentlemen |
| Martin de la Fuente | Ocado |
| Judith Harris | Dobbies |
| Jane Hudson | Qwerkity |
| Mark Jones | Occasions |
| Nathaniel Mobbs | National Gallery |
| Jenny Spivey | Retail Consultant |
| Natalie Yates | Gifts from Handpicked |
| Zoe York | Squashed Tomato |
| Henri Davis | Retail Consultant |
| Amanda Fergusson | Supplier Consutlant |
| Sally Norton | Gifts Today |
| Sue Marks | Progressive G&H |
| Charlotte Cowell | Gifts & Greetings Review |
| Tracey Bearton | Greetings Today |
| Christopher Leonard-Morgan | London Stationery Show/National Stationery Week |
| Karen Greig | Destined for Home |
Rufus Rabbit's Baby Bunny Bonnets are available in two weights, smooth for Spring & fluffy for Autumn to ensure baby's head stays protected all the seasons elements. Like all of Rufus' range they are beautifully packaged, making the newborn gift buying experience an easy and fuss free option for the purchaser.
To celebrate Rufus' news and to aid in store sales he has created an A4 tri card featuring the very lovely Hope modelling Rufus' fluffy bonnet. If you would like one of these for your store simply call or email Bunny HQ on 01332 290605  E: info@thelittledog.co.uk and Katie will take your details.