"I'm pretty tired now, I think I'll go home"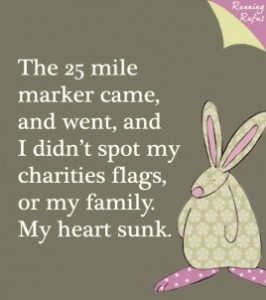 So. It's all done. I am officially a London Marathon Finisher.
I cannot believe that it is all over, that my months of "I'll just have a juice, I've got to run tomorrow" have all paid off. I have literally been there, done it and got the t-shirt AND the medal (which, I will be wearing for as long as possible to any occasion possible. I'm thinking that it might become a fairly good addition to my accessories collection).
What.A.Weekend.
What an experience.
I was deeply concerned that weeping might affect my hydration levels, given the amount that I did in the week before and over the weekend.
I travelled down on Saturday with the local running shop on a coach – such a brilliant way to travel as I could forget about all of the logistics that would normally make me whittle. I was also on my own which meant that The Cyborg and He who shall not be named (Harry Potter addict)had a leisurely journey to London and hung out having yummy adventures without me piping up every five seconds about my trainers. Or my toenails. Or my new obsession with Vaseline (probably best not to go there!)
After spending far more time than I needed faffing around with my kit for Sunday, Saturday night was finished and I was safely tucked up in bed at 9.30pm. My dreams were crazy with typical worries of not making the start line, getting lost and starting with the elite women. I woke up at 4.45am. Breakfast at 6am with my new buddies seem to have an anxious buzz. Everyone eating their muesli and bananas. Goodness, today is the day we're running a marathon. And you know what, the flipping sun is shining.Sun is awesome for spectators but worrying when you've done all of your training in rain, wind, sleet and snow…….
The time to set off came and my weeping began. All the months of training were finally going to come to a climax. I have no idea how I felt – maybe like a lamb to the slaughter. Maybe like I did before childbirth.
It feels like you wait forever to do anything, hanging around, doing anything to kill some time. Foolishly I thought trying the female urinal would be a good idea. Suffice to say marathon day was not the right day to practice this and practice is definitely something that you need to successfully use them. Grim.
The sunshine was such a blessing at the start of the day. Meaning that we weren't freezing cold whilst hanging around. It all seems like a bit of a crazy blur and despite at the time, it feeling like an eternity,before too long, we were in our pens and waiting to cross the start line. It was electric. After 13 minutes, I crossed the start line. And immediately, I needed a wee. Damn. I ran for a bit contemplating it and worrying about Paula Radcliffe type circumstances. Eventually at mile 3 (!!!) I stopped and queued for a portaloo. Ridiculous. All sorted, I cracked on.
The next thing I really remember thinking was how many people were out cheering and singing, playing music and drinking beer. It was just the most amazing party atmosphere. Your mind wanders in a million directions and if I could, I would love to transcribe those thoughts and read them back to myself. And then it occurred to me, somewhere around the Cutty Sark, how many people were running for charity.
I wonder what their stories all are? I wonder how their lives have been affected by something. Surrounded by a sea of different vests, you suddenly feel very small but part of something incredibly significant.
Just before half way, I had my first proper sob, coming around a corner, in my own little world, Tower Bridge suddenly loomed in front of me. Immense and imposing against the bluest sky. It was incredible. I sobbed my way across the bridge, trying to inhale every moment.
Crack on, past half way and onto Canary wharf.Canary wharf began to make me feel a bit tired. I've always known that the 15 mile to 19 mile bit was going to be my battle, the not quite far enough to start counting down, the out on a limb bit. But it passed by, and the people who shout your name and tell you that you look strong simply have no idea the difference they are making in your mind.
I knew that the Cyborg and various other supporters were waiting at mile 25 for me. My countdown was to mile 25, once I'd got there, I knew I'd make it to the end. After all, what's one and a bit miles on top of the few before that? The 25 mile marker came, and went, and I didn't spot my charities flags, or my family. My heart sunk. I'd missed them. Gutted. I rounded the corner by Big Ben and suddenly, there were the flags. My baby is definitely there. I started shrieking and waving and cheering – I hadn't missed them, there they were. My heart nearly popped. There was, for about one whole minute, no one else around me, they'd clocked me and were as excited as I was. It was the most incredible moment. Utterly amazing.
Now I only had another mile and I would be home and dry. Not long now, just keep going, just keep going. And I did. My legs kept going, kept me moving and got me across the finish line. I'd made it. I'd run my first marathon. And I didn't swear never to do it again. They put a medal around my neck and I cried and cried and cried. I'd done it. Not in the time that I wanted, but I'd done it.
He who shall not be named may not know this but the ballot opens on Tuesday for next year's Marathon. And my name is going straight in the hat. I have times to beat now, this Running Rabbit has caught a running bug……..