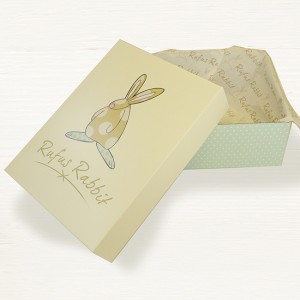 The Rufus Gift Handover Experience
Welcome to the humble world of Rufus Rabbit, the funny bunny creation of designer and Mummy to four, Anna Danielle. Rufus Rabbit started out as a greeting card character, publishing amusing but completely made up facts based loosely around real life. Then, towards the end of 2011 Rufus made the transition into a baby gift range based on nothing more than a "I think it could work" hunch from brothers and sister team; Gavin, Anna & Nathan. Greeting cards were their thing and yet with absolutely no prior knowledge of the baby or toy market these three and their fabulous motley crew of 6, set about bringing Rufus Rabbit to a nursery room near you.
We are a little bit obsessed with beautiful packaging here at Bunny HQ and so a great deal of time and attention goes into a Rufus Rabbit parcel.
All Rufus gift orders arrive boxed and wrapped in bespoke Rufus tissue paper but we also sell two sizes of gift bag designed especially to hold most combinations of Rufus products ensuring that the final handover Rufus experience is a rather lovely, hassle free one!
We have Rufus boy and girl versions of gift bags available in medium and large and if you pop into our newborn greeting card sections you can choose from a number of card designs to complete your gift.
And just as soon as we've worked out which buttons to press on this all new singing and dancing website we'll be able to offer you Rufus Rabbit gift vouchers. Admit it, life doesn't get much more exciting than that!